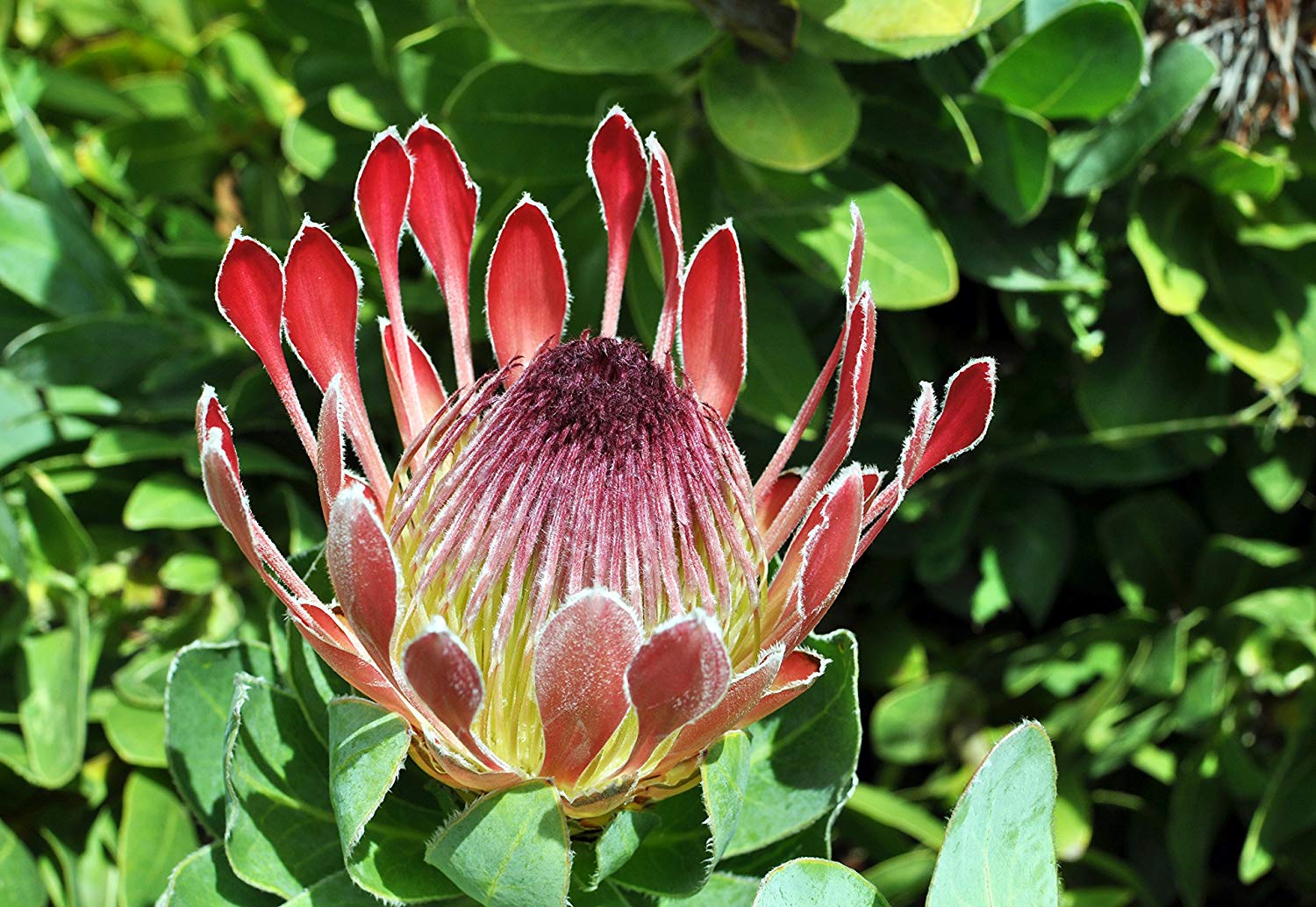 Duchess protea - 5 seeds
Protea eximia is a robust, easy-to-grow protea, presenting its showy, deep pink, purple-centred flower heads above greyish green foliage.
Protea eximia is one of the easier proteas to cultivate as it tolerates quite a wide range of soils and conditions, as well as wind and light frost. Plant it in a sunny position, in well-drained soil where there is free air circulation. Water well throughout the year but particularly during autumn-winter-spring. Like other proteas it is a light feeder with a sensitive root system that is adapted to very nutrient-poor soils. It will not tolerate strong fertilizers and manures, but should be fed with well-rotted compost and if using chemical fertilizers, choose a slow-release one or apply very low doses. Tip young plants regularly to encourage branching. Remove the spent flower heads immediately after flowering to encourage a more compact bush. Also, as it can be a bit lanky and sparsely branched, plant in close groups of three or five so the plants can support each other and achieve a more dense bush. It is a long-lived protea, and can reach 20 or 30 years and show no signs of senescence. Grow Protea eximia in the fynbos garden, the coastal garden, the water-wise garden or in gardens with alkaline soils where most mountain proteas fail. It tolerates brief, light frosts and can therefore be grown successfully in Highveld gardens and should survive outdoors in Zone 9 (-7 to -1°C / 20 to 30°F). It can be grown in the shrubbery, towards the back of a mixed border, and produces a steady supply of cut flowers during winter to early summer. Protea eximia can be propagated by seed or cuttings. Sow seed in autumn to early summer, in well-drained soil, lightly covered with clean sand or fine-milled bark and kept moist but not wet. Germination occurs after 3 weeks. Treating the seed with a fungicide increases the number of surviving seedlings. Transplant into individual containers as soon as the first pair of true leaves have developed. Seedlings grow rapidly and the first flowers can be expected in their second or third year. Take semi-hardwood cuttings from the current season's growth, in autumn or spring. Remove the leaves from the basal third of the cutting, treat with a rooting hormone, and place in a well-drained rooting medium under intermittent mist with a bottom heat of 25°C.